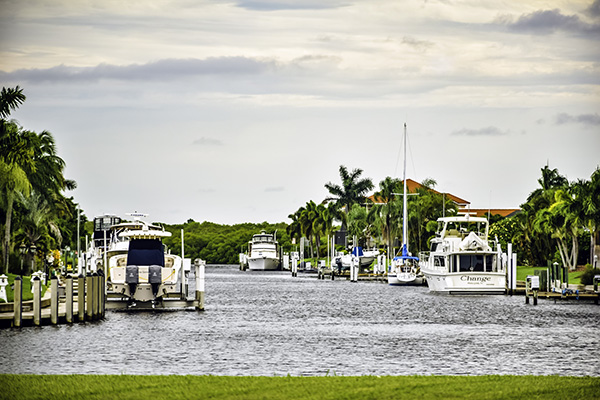 In 1957, PGI, Inc. began developing the land on the southern shore of Charlotte Harbor. This development, known as Punta Gorda Isles, would epitomize the Florida lifestyle. With seemingly countless miles of man-made canals, boating is at the forefront of this lifestyle.
Realizing that boating wasn't the only favorite activity in Florida, the developers were sure to include golf as an amenity of the community. St. Andrews South Golf Club is a private 18 hole par 71 course located right in the heart of Punta Gorda Isles. Just about the only homes in PGI that aren't waterfront are located along this beautiful course.
PGI, Inc. completed development of Punta Gorda Isles in the 1980's, so all available lots and land are privately owned. There are many waterfront lots available to choose from on the current real estate market and new construction is flourishing in PGI.
Whether you are looking for a lot to build your dream home or an existing home or condo to make your own, Punta Gorda Isles has what you seek.
One-Click Search Links
Homes For Sale in Punta Gorda Isles Sec 02

Homes For Sale in Punta Gorda Isles Sec 03

Homes For Sale in Punta Gorda Isles Sec 04

Homes For Sale in Punta Gorda Isles Sec 05

Homes For Sale in Punta Gorda Isles Sec 06

Homes For Sale in Punta Gorda Isles Sec 07

Homes For Sale in Punta Gorda Isles Sec 08

Homes For Sale in Punta Gorda Isles Sec 10

Homes For Sale in Punta Gorda Isles Sec 11

Homes For Sale in Punta Gorda Isles Sec 12

Homes For Sale in Punta Gorda Isles Sec 14 (The Bird Section)

Homes For Sale in Punta Gorda Isles Sec 15 (Burnt Store Isles)

Homes For Sale in Punta Gorda Isles Sec 17

Homes For Sale in Punta Gorda Isles Sec 24